Anaconda eye rapids is a fun anaconda/adventure themed slot machine developed by Oryx Gaming. Oryg Gaming is a relatively new developer that was founded in 2010. They developed and released anaconda eye rapids in 2016. The game is moderately popular. It is not common but can be found in a number of different casinos that features games from Oryx.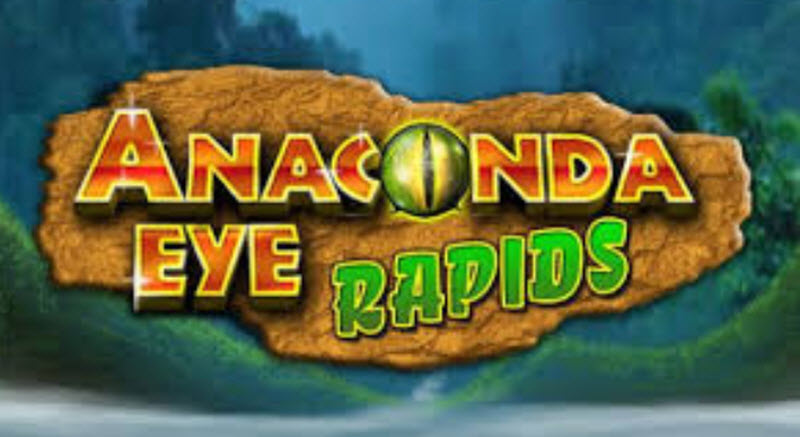 The game features a return to player of 96.08%. This is not bad and better than many other slot machines. I do however not recommend that you play any slot machine that has an RTP below 98%. At least not unless you love a certain game. If you love a certain slot than it can be worth to play it even if the RTP is below 98%. Choosing to play slot machines with a high RTP make game developers more likely to develop games with a high RTP. They want the games they develop to be popular and if a lot of players avoid playing games with a RTP below a certain level then the developers will avoid develop slots with a RTP below that level.
The slot machine is simple but still feels modern. The graphics are crisp, light and well designed. The audio is well suited for the slot and adds to the atmosphere. The audio can be turned off if you do not like it.
Gameplay
The gameplay is fun, and the different bonus games help make the game feel more diverse and exciting. There are one or two bonus games in this slot depending on whether or not you think the Piranha mini-game is a bonus game or not. The Piranha minigame is a game you get to play every time you trigger free spins, and that help decides how many free spins you get and what multiplier you get to use during the free spins. You can read more about this further down in the article. The second bonus game is a true bonus game that is named as such. This is triggered by the bonus game symbol.
The bonus game places you in a room with doors to different ancient temples. Each temple gives you a different win. If you do not like the first door you went through then you can go back and choose another door. If you do then the first win is lost and you have to settle for whatever is behind door number two.
The game feature 3 lines and 5 reels. There are a total of 20 different pay lines. You can set how many of these lines you want to bet on. You do not have to bet on all of them if you do not want to. You are free to set the coin value and the number of coins you want to bet on each pay line. You have to bet the same amount on all the pay lines that you play.
The largest win is 35 000 coins. There is no progressive jackpot.
Symbols
The symbols in the game are inspired by the Amazon river and the dangerous animals that lives there such as the Anaconda. Among the symbols, you find the eye of the anaconda, the most valuable symbol in the game as well as a snake temple, a stream, a jaguar, a snake and a crocodile.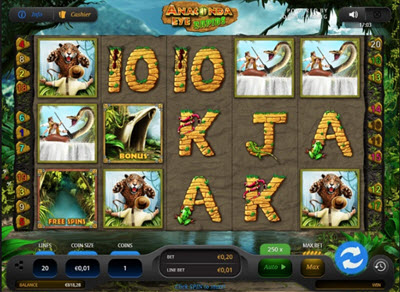 The stream is the scatter. Get at least 3 of these symbols to trigger free spins. Before the free spins you get to chose some of the piranha in the river in a small bonus game. These piranhas can award you with multipliers or additional free spins. The more scatter symbols you get the more piranhas you get to pick.
The snake temple/ anaconda cave can trigger the bonus game. You need to get at least 3 symbols to trigger the bonus game. More bonus symbols allow you to play the bonus game with a multiplier activated. You can only trigger one bonus game at a time.
The eye is as earlier mentioned the most valuable symbol in the game. It allows you to win up to 7000 coins. It also doubles as a wild symbol and can replace every symbol except the bonus and scatter symbol.
Risk Game
There is no risk game.
Can you play on mobile units
Yes. Anaconda eye rapids is developed in HTML5 and can be played on all mobile and handheld devices. The game can of course also be played on desktop and laptop computers.
Where to play
This slot is available in many casinos that feature games from Oryx. Examples of casinos that featured this game when we looked include Happy Hugo, Spinnit, and slots million.